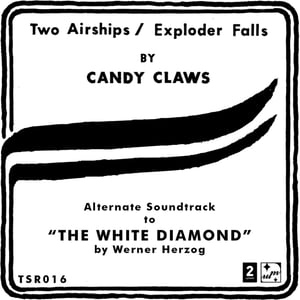 $

13.99
Two Airships / Exploder Falls, the first Candy Claws album ever, originally released on Peppermill Records in the summer of 2008, is an explosive electronic exploration of the Sky. Like all Candy Claws efforts, it's concept-heavy; this one is an alternate soundtrack to Werner Herzog's film "The White Diamond."
The two-track sprawling analog-meets-digital instrumental soundscape explores multiple melodic themes, the jubilation of Dan Deacon at times and exploratory textures reminiscent of Black Dice at others. But deep under the glitchy Merzbowesque patina, between the twists and turns, this journey is distinctly Candy Claws.
Each piece occupies a full side of the white label 12" and exists almost as independent movements of a larger symphony. In fact, Two Airships / Exploder Falls would not be out of place at Alice Tully Hall alongside modern contemporary music legends like Tyondai Braxton or, the untouchable godfather, Terry Riley.
We invite you to put on a pair of headphones, close your eyes, and explore a unique universe brought to you by the brilliant, singular, fantastic visionaries, Candy Claws.