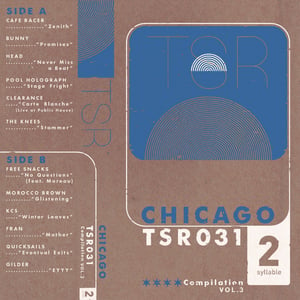 $

10.99
It has been almost a decade since we released Vol. 1 of the Twosyllable Records Chicago Compilation Cassette series and we have yet to find a local music scene anywhere in the world that better embodies the very virtues that led us to start a label. It is an incredibly supportive, robust, and diverse group of talented individuals that compose, record, and perform across a myriad of genres, neighborhoods, and socioeconomic strata in a truly impressive way.
Some of the curated artists from Vol.'s 1 and 2 have gone on to achieve critical acclaim, global stardom, or both, while others have been etched into the canon of Chicago's lush recording legacy. We hope and believe the same will go for this new collection.
On May 22nd digitally (cassette release to follow), we'll be releasing Vol. 3 of this series (tracklist below). By no means is this a comprehensive survey of the incredible music being made in The Windy City, but we hope we are shedding light on some talent that demands to be heard beyond the Third Coast.
Endless thanks to all the artists on this comp, especially Fran and Free Snacks who have new EXCLUSIVE singles out now (links below). Also thanks to Alex Clark for the master and Ryan Hover for the artwork.
A
Cafe Racer - Zenith
Bunny - Promises
Head - Never Miss a Beat
Pool Holograph - Stage Fright
Clearance - Carte Blanche (Live at Public House)
The Knees - Stammer
B
Free Snacks - No Questions (feat. Moreau)
Morocco Brown - Glistening
KCS - Winter Leaves
Fran - Mother
Quicksails - Eventual Exits
Gilder - EYYYY
[DUE TO COVID, CASETTE MFG IS DELAYED. KEEP YOUR EYE ON SOCIAL MEDIA FOR SHIP DATE]