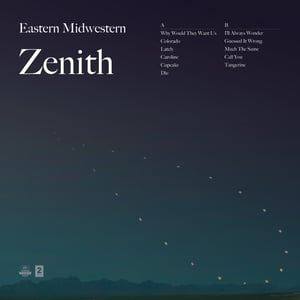 $

9.99 - On Sale
"Music is not about trying to be the greatest musician who ever lived. It's not about idealizing a friendless, obsessive, tortured existence for something as abstracted and devoid of joy as competition. It's about playing music with people — finding a community and truly connecting with other people."
- Kid Millions
Like Bert & Ernie and Felix & Oscar, the bond of friendship can be peculiar. It is indisputable, though, that there exists a palpable, visceral energy that attracts strangers to form a perfect union. And, in those flawless entities we find a truer sense of being, a holy, deeper meaning that art only strives to approximate.
Eastern Midwestern shoots for the moon, and only most-artfully turns back on itself. Whether it's the genteel storytelling of the Middle West, or the affected attitude of the jagged Eastern seaboard, this unique foursome of de-facto New Yorkers aims to please even the most discerning ear. They dare you not to hum back a melody, to not swing your arms in grand air guitar gestures, or flail fauxfills down dribbling air-toms. You'll have no control as your inner-bassist contorts the corners of your mouth into Bass Face, your under bite leading your head in an approving Rock Nod.
Enjoy your ride to Zenith and back! It is the capital of your favorite fictional state: Winnemac, so equally eastern and so equally midwestern.
1. Why Would They Want Us
2. Colorado
3. Lately
4. Caroline
5. Cupcake
6. Die
7. I'll Always Wonder
8. Guessed It Wrong
9. Much The Same
10. Call You
11. Tangerine