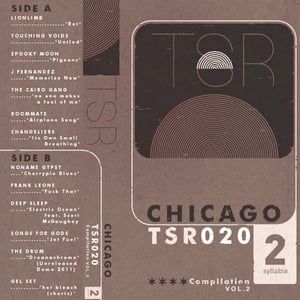 $

5.00
Take out your CD tape adapter, and pop this in your car's deck. Hear the tape hiss, the creak in the turning spindles that long for the days of mixtapes. Roll down your windows. Together, we're gonna ride the length of Lake Shore Drive for the next 45 minutes with a crew of thirteen of the newest, most talented Chicagoans we
know.
On the heels of the success of Vol. I, we are elated and excited to announce Vol. II of Twosyllable's Chicago Cassette Compilation. Compiled with love of a scene, or a group of scenes, in the Second City that does not always get the love that music does on the coasts, Vol. II takes a snapshot of nascent Chicago music makers, regardless of genre, on their way up.
In many ways this comp breaks ground for us as a label: our first foray into Hip Hop and R&B, our first release of a continued series. But on top of all that, it's personal. Chicago is home. The capital of the Midwest we left years ago, but a place that's important to us. With its own identity, its own energy and its own talent, Chicago is a
breeding ground for young talent displayed here.
Write these artists' names down now, so one day you can say you knew them when.