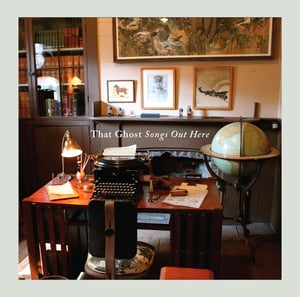 $

14.99
To call That Ghost, aka 20-yr-old Ryan Schmale, a singer songwriter wouldn't be doing him justice. Ryan's not a bedroom musician or an indie rocker...Ryan is his own. A prolific troubadour. A stirrer of emotion. A folk alchemist.
Songs Out Here is an album of melancholic and atmospheric songs inspired by nostalgia, forgotten places and the hills and trails of Sonoma County's "Valley Of The Moon." Written partially on the grounds of Jack London's estate--see album art--Schmale hearkens the spirit of the deceased author. Also a lonesome adventurer, a young Schmale turns to one of our all-time great authors for solace.
Schmale's lyrics, almost painfully obvious, illuminate the 20-year-old social situations akin to this scenario. With each song, a mention of stolen alcohol bottles, "An Only Son," a lost friend, "The Older," or just utter solitude, "To Like You." And yet it's neither frivolous nor prudent. Songs Out Here has a strong sense of honesty and a feeling of empathy you can't miss.
This record, Schmale's 5th release--and 4th on twosyllable records--is more introspective than most. It's more somber, more heartfelt. The sentiments of Schmale's previous garage sound are there, but mutated into something more subdued, yet familiar.
Listen, lest you be missed.