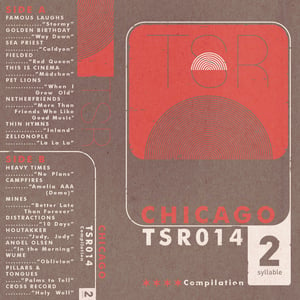 $

5.00
Though I grew up mostly in the suburbs of Chicago, I was able to spend a lot of time in The City. I was born in Chicago-proper and lived within its borders for 2 years before I moved up north. The suburbs of Chicago are exactly as John Hughes (and later Tina Fey) depicts them: high school drama, bored teens, and privileged families. As a bonafide nerd, I didn't fit in exactly, but when I finally reached high school, I was able to pull back the curtain on another underground I didn't know existed.
It started with the radio. Q101 (RIP) ran a local show, Local101, that highlighted local talent. Local bands led to local (read: "college") radio, WNUR, WLUW, and more all played music I'd never heard before. I started attending basement shows in Highland Park and Northbrook. Hardcore kids raised on Naked Raygun and Big Black playing loud. That wasn't exactly my scene, but as I delved deeper I learned that genre was no boundary to the underground.
Venues and record stores became portals to new sounds. The pilgrimage from the suburbs with stacks of CDs became a ritual. Parent's minivans and old sedans became our fortresses as we'd drive aimlessly acquainting ourselves with new names....
Skipping ahead almost a decade, when twosyllable released a 7" by Chicago band Distractions last year, we didn't know what we were getting into. We slowly began discovering an intricate network of friends, musicians, small record and tape labels, DIY venues, bands, and music. We learned, in working with them, that every member of Distractions had their own musical project. And every member of those projects had their own, and so on.
This collection of 18 songs represents some (not all) of our favorite bands from Chicago. The music ranges genres, but is on the whole homemade. Garage rock, garage pop, garage folk, garage glitch...
Of course we are indebted to the labels, radio stations, record stores, and venues of Chicago. Special thanks to Matt Jencik, Christen Thomas, Ed Post, Tom Owens, Angel Olsen, and Stone Hansard.
We wanted to release it as a true mixtape, on cassette. Of course you can pick up a digital copy too, but it's meant to be listened to on the car stereo driving down The Eisenhower on the way home to the suburbs.
Artwork by our very own Candy Claws' member, Ryan Hover.